Lezlie's Seeds for 2013
76 Varieties for 2013!
Here is the list of all my seeds for 2013. All my tomatoes are indeterminate except where noted otherwise. Regular leaves unless noted otherwise. All my vegetable seed varieties are open pollinated, heirloom non-hybrids. You can save seeds from them and they will come true.
I am holding to the Seed Saver's Exchange rules for non-members and unlisted members, as well as listed members, for my seed prices. Prices include postage and handling First Class mail.
Quantities in a packet: All tomatoes, 25 seeds. Beans, 1 ounce of seeds (enough to plant 20 feet of trellis row; unless it's listed as Limited Quantity, then you get 31 seeds, enough for 10 feet of trellis row). Squash, 15 seeds. Peppers, 25 seeds, Melons 25 seeds, Lettuce 50 seeds.
Want to order seeds?
Email me at
lezlie@saladette.com
with your seed request and I will reply to you quickly about availability. If you have trouble, you can also email me at lezlieinia@gmail.com. I don't want to publish the rest of my personal contact info on the Web for every who-knows-who to see, so you will have to email me for my snail mail address for mail orders. If you are a SSE member you can find my contact info in the Seed Savers Exchange Yearbook, I am listed as IA CE L.
I accept payment for seeds via personal check, PayPal, USPS stamps, Dwolla, or cash. Please furnish me with your SSE Listed Member's Code, too, if you are one.

Below are the SSE prices for the US and Canada for 2013.
| | | |
| --- | --- | --- |
| | Listed Members | Non-Listed Members and Non-Members |
| Small seeds | $3.00 | $4.00 |
| Large seeds (beans, corn, and squash) | $4.00 | $5.00 |
Want to make a comment or suggestion? I welcome them! Just email me. I check my email regularly from 9am to 9pm, Central time zone.
What is the Seed Savers Exchange?

It is an international organization of people dedicated to preserving our garden heritage thru saving the seeds of old, uncommon and rare varieties. SSE has it's headquarters in Decorah, Iowa, at Heritage Farm. There is a yearly membership fee, which includes the yearbook, online access to it, the annual public catalogue, and 3 annual issues of the Heritage Farm Companion. You do not have to have saved seeds to be a member. Anybody can join.
www.seedsavers.org
What is the Seed Savers Exchange Yearbook?
Every year members exchange thousands of varieties in the
Seed Savers Exchange Yearbook
. Around 700 "listed members" grow and save over 13,000 fruit, grain, and open-pollinated vegetable varieties to offer to other members. Seeds, plants, roots, bulbs, and more are exchanged by contacting the listed member directly—either by phone, email, or snail mail.
The diversity available in the yearbook is astounding–imagine choosing from over 4,000 tomato varieties!
It also includes many hard-to-find plant types such as amaranth, cowpeas, horseradish, Jerusalem artichokes, wheat, and scorzonera—to name a few. Many of these varieties are not commercially offered and are available only because of the preservation work of the listed members.
Why list seeds in the 2013 Seed Savers Exchange Yearbook?
SSE and the listed members compile the
Seed Savers Exchange Yearbook
annually because exchanging seed directly with other seed savers creates a strong, resilient and diverse seed system able to withstand changing climates and consolidating seed companies.
I don't have seeds to share, how can I become involved?
You don't need seeds to exchange to become a part of the Yearbook exchange. But we want to encourage all members to become participatory preservationists and list seeds. Listed member Curzio Caravati suggests that members "select a rare variety from the Yearbook and become the curator of it! You can ensure that this one rare variety is not lost. By networking with other SSE members you could make sure someone else is keeping that seed viable. Let's keep the good eggs in many baskets!"
Seed Summary
Wisconsin 55 Gold - discovered by my Master Gardener instructor, Dr Raabe.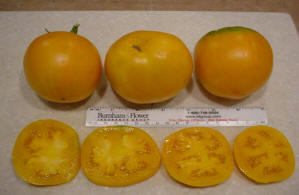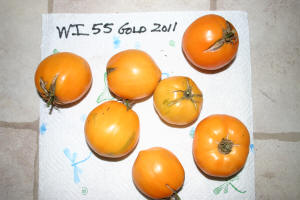 Dr. Raabe was my plant pathology instructor for the 1993 Master Gardener class in Lake County, California. Wisconsin 55 Yellow/Gold is a yellow mutant of Wisconsin 55 (This splendid cultivar represents some of the last focused open pollinated tomato breeding done at the University of Wisconsin in the early 1950's. by J.C. Walker, who was actually a plant pathologist. Shortly after that time, breeding efforts shifted to F1 hybrids and this was among the varieties that were nearly forgotten.) that Dr. Robert Raabe, professor emeritus UC Berkeley, found growing in a field of the original Wisconsin 55 growouts in 1953/54 when he was a student tending fields and picking fruit for processing. Raabe saved some seeds as a curiosity. He's grown them for them 50 years since because he likes them but never thought there would be widespread interest in such a thing until Alison Stewart got excited about it and asked him for seeds. Raabe gave Alison some seedlings from which she got a supply of seeds some of which she sent to Martin Longseth, a champion of Wisconsin 55. This tomato grows hardy plants under harsh conditions in shallow soil and makes thick walled, dense tomatoes suitable for canning and slicing. WI-55 Gold seems tolerant to disease, heat, heavy rain, and survives bug infestations while producing relatively blemish free fruit without cracks that ripen to a very pretty yellow/gold color that is not orange. It was first listed in the 2007 SSE Yearbook.


German Red Strawberry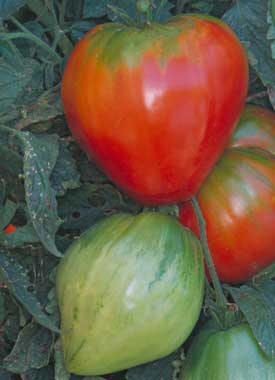 This large oxheart is great tasting, solid, and wonderful for BLTs. A late bearer.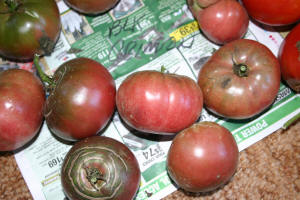 Black Crimson
This black beefsteak is flavorful and a prolific bearer. Needs a big cage. Subject to catfacing.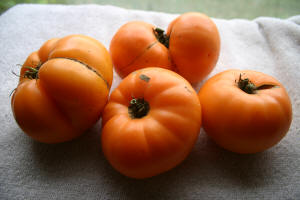 Mennonite Orange
this lovely orange beefsteak is a prolific variety that does well under even stressful growing conditions, is reliable and very tasty for a yellow/orange tomato.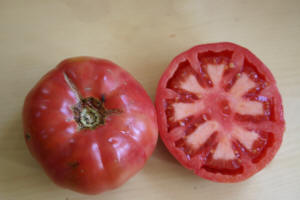 Caspian Pink
A wonderful large flattened globe, pink, and is a delicious part of a BLT. Larger fruits will cover a slice of bread or cover a burger with ease. Wonderful flavor and creamy mouthfeel.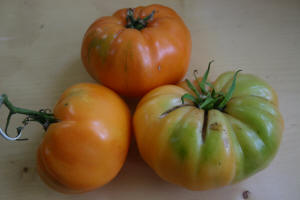 Kellogg's Breakfast
This golden yellow tomato had the most outstanding flavor of all varieties grown by me in 2012. Large beefsteak fruits on vigorous plants. A late season tomato.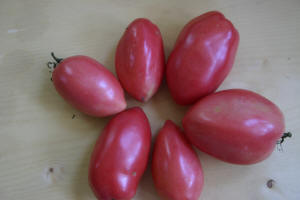 Sheboygan
A pink paste type tomato, long, pointy fruits on vigorous plants. Fruits resisted cracking for me. Decent flavor, mild, good for sauces and stewing.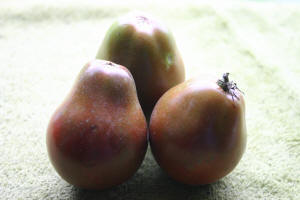 Black Pear
A native of Siberia, this heirloom is similar to, but earlier than, and more prolific than, Japanese Black Trifele. Complex flavor, beautiful shaped fruits, beautiful in salads.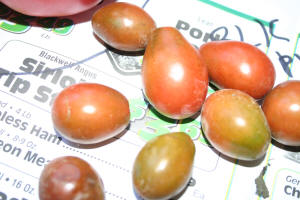 Black Plum
This plant is a prolific bearer of small black plum tomatoes. Good in salads.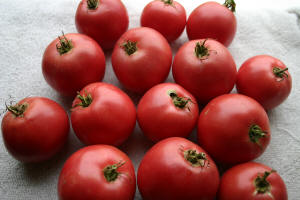 Momotaro OP
This is the Japanese pink variety but it has been dehybridized by me. Mild flavor, prolific and early, many fruits ripen at once, in 2-3 flushes.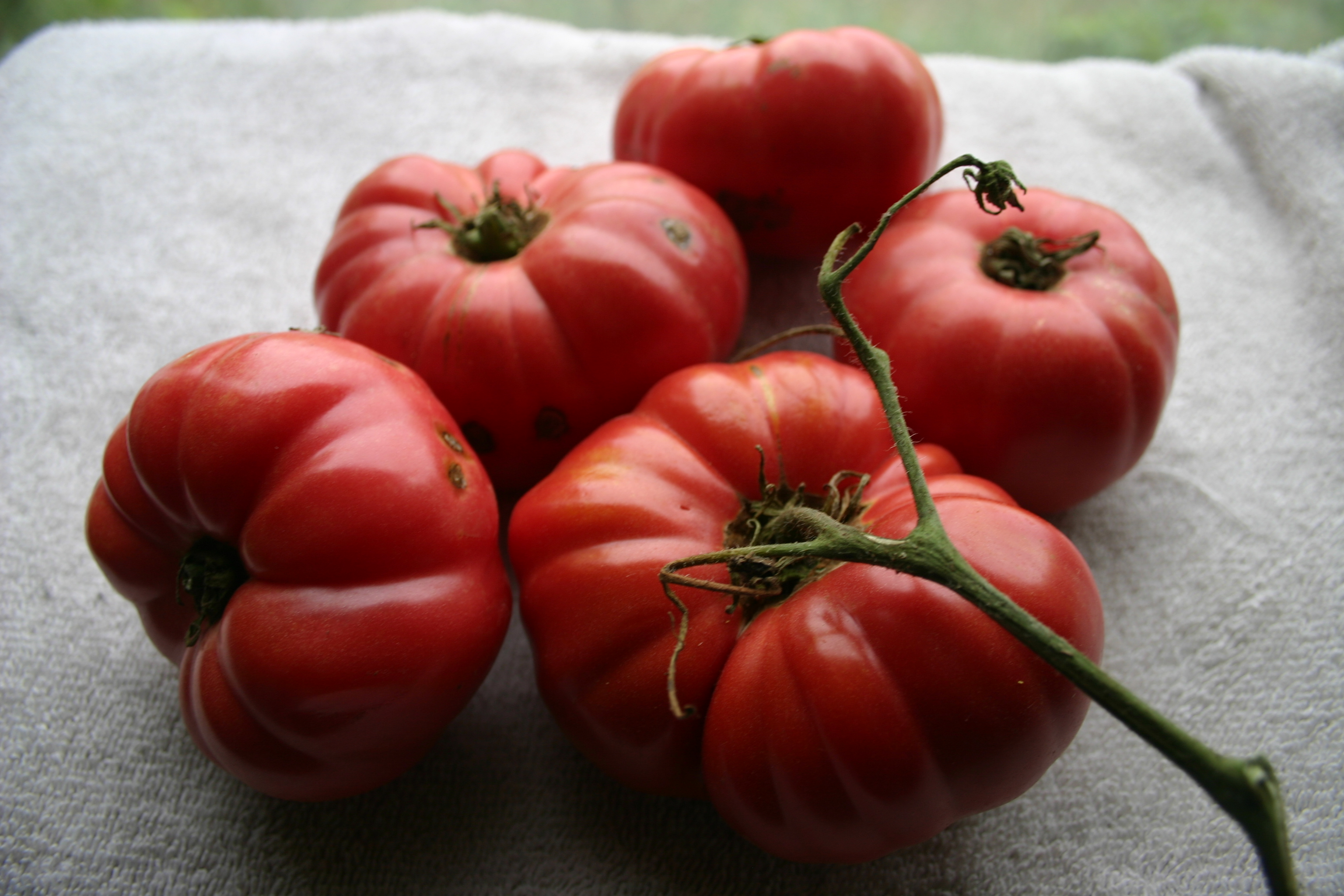 Omar's Lebanese Beautiful large flattened deep pink beefsteak type fruits. Deeply lobed or ribbed.Wonderful flavor, covers a bun or slice of bread for the very best BLTs.

no photo

Reine de Hatives A small red early tomato from Russia. The name means "Queen of The Earlies" in French, not Russian.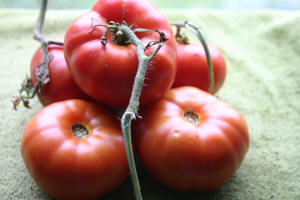 Costoluto di Marmande
Is a red, flattened, ribbed globe, about 8 oz. It really is a gorgeous fruit, and looks just like other red Marmande types. Great flavor and texture. The seeds came from Italy to my penpal in Ozland, and from him to me in 1997. Some time in the mid- nineties, legendary Aussie TV gardening celebrity Don Burke did a special program on Italy. He then bought some tomato seeds back to Australia and viewers could write in and get a packet. One of them (Costoluto di Marmande) won a tomato taste test, and from then on, was referred to as the Burke's Backyard tomato. It went on to become one of the biggest selling home garden tomatoes ever sold in Australia. It is still one of the biggest selling tomatoes today. A rich meaty flavoured tomato, it is an Adelaide type, with ribbed fruit. It also fruits early, and if planted a bit later, is also a good fruiter running into late Autumn. Indeterminate, but is bushier and tops out at 5 feet tall.

Mt Hood Cherry
Small red fruits, 0.2 ounces, 1/2 to 3/4 inches in diameter. Extremely tasty, bite-sized. Vigorous, beautiful plants. We think it is the best tasting cherry of all. Indeterminate.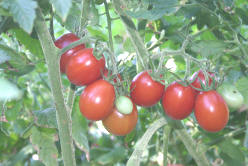 Siskiyou Plum
Absolutely great flavor, sweet but tangy. 0.9 ounces, 11/4 x11/2 inches, red. Very productive, attractive plants. Stupice and Principe Borghese parents.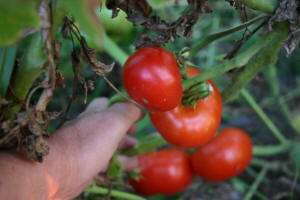 Surprise
Gorgeous red fruit, great flavor, 6 oz fruits or better, 100% Italian parents. Good rich tomato flavor, great for salad or slicing. Good mouth feel. Surprise's parents are Costoluto di Marmande and San Marzano.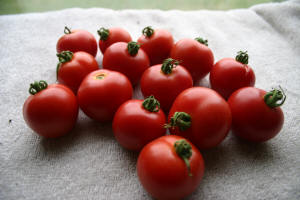 Surprise #2
Gorgeous round red fruit with slight dimples, slightly larger than a golf ball, with great full-bodied flavor, 3-4 oz fruits, with some Italian parental genes. Great for salads or pickling when still green. Has a thicker skin so resists catfacing and cracking.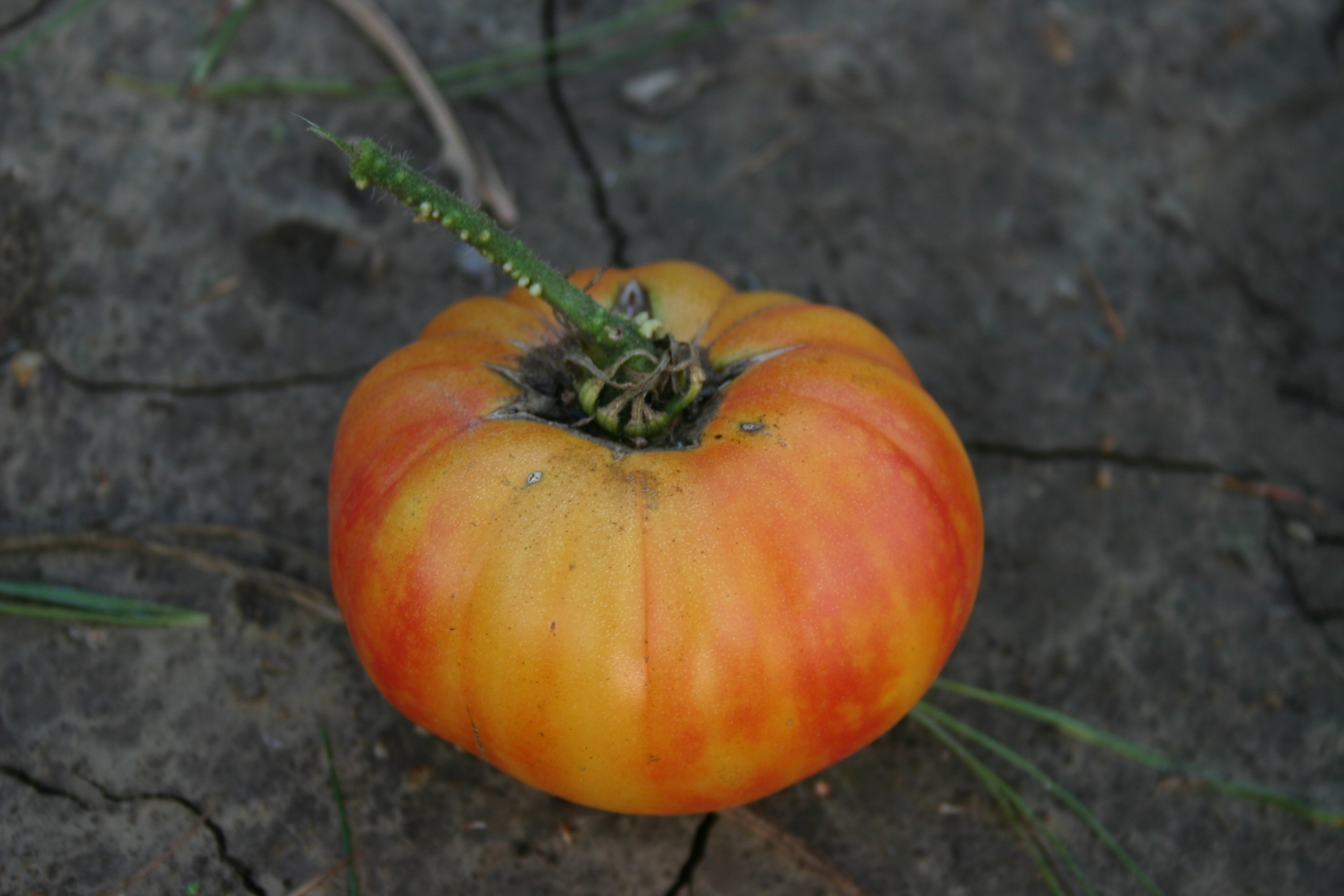 Pineapple
Beautiful fruits blend red and yellow dappled markings and interior flesh. Good flavor, old-fashioned, but late maturing.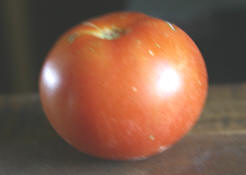 Grosse Lisse is an open pollinated indeterminate that will grow to 2 metres. I've even seen it over 3.5 metres high up a trellis! It has been the standard by which most Australian home gardeners in southern states have measured their Tomato growing prowess for the past 50 years. It sets fruit in very hot conditions for mid to late season, after 100 days from seed or 80 days from seedlings. The fruits are tasty 6-10cm oblate and smooth, best picked with a hint of pink and ripened indoors or the acid levels rise, however if you like the wild taste, then you leave them to sun ripen. May have good fungal resistance for problem climates.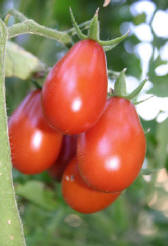 Teton Pear
Large red fruits, sweet, full tomato flavor, 1.5 inches long, 0.5 ounces Very productive plants. Yellow Pear and Stupice parents. Has some susceptibility to blossom end rot. Not perfected.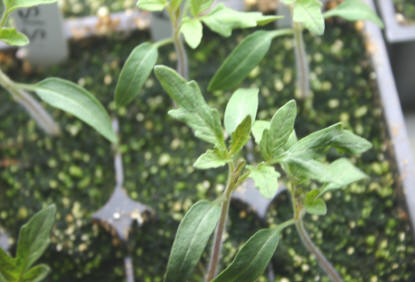 Pink Saladette
Our favorite for fresh eating or salads. Fruits weigh 3 to 5 ounces. Spritely flavor, creamy flesh, great in salads and salsa. Found in a garden of Brandywines in 1997. Indeterminate. The photo on this site's
Home Page
is of these deeply pink, ripe fruits, about life size.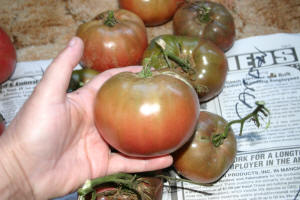 Carbon
Is a beautiful black tomato, with the best taste of all the blacks, according to a famous gardener I know who grows hundreds of tomatoes. A prolific producer for me.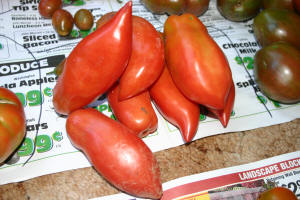 Cow's Tit
Is a productive variety, and good for canning and sauce, due to it's few seeds and little juice. Large tit-shaped fruits, and just about the same size as a real cow's, too. Did not crack or rot under hot, humid conditions with intermittent rain.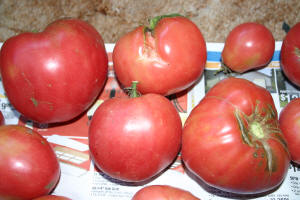 Cuore de Toro
Is a beautiful variety of large fruits. A productive variety as well. Smooth texture to the flesh and good flavor.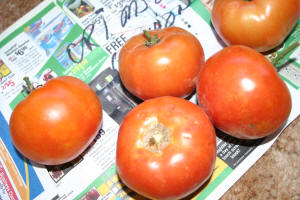 Crimson Cushion
Is a productive old variety of moderate size.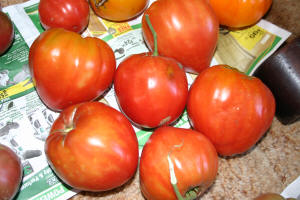 Giant Oxheart
Is a larger old variety. Wonderful taste, and easy to grow. Productive late in the season.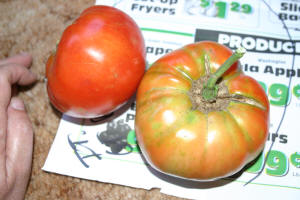 Italian Giant Beefsteak
is great tasting and good for all kinds of uses. Large fruits on large plants.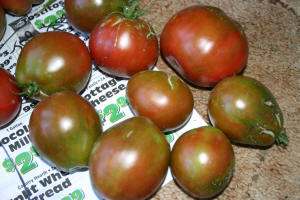 Japanese Black Trifele
Is a rare variety, a prolific producer of large plum-shaped fruits that are black and late in coming on. But once they begin to ripen, there are boatloads of them.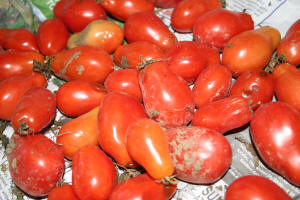 Martino's Roma
Is a smaller plum tomato. Prolific, but is prolly better for salsa and salads due to it's small size.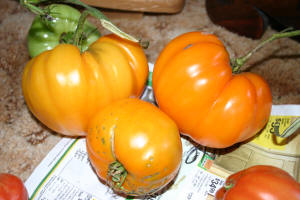 Orange Oxheart
Is a prolific producer of large orange heart-shaped oxheart fruits of 1+ pounds. The vines needed a taller and wider cage than my Texas Tomato Cages, which is pretty good sized. Out-produced many other varieties that I grew this year.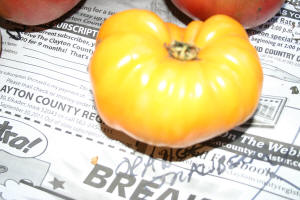 Orange Strawberry
is another large, golden oxheart tomato, but the color is a clearer, lighter yellow.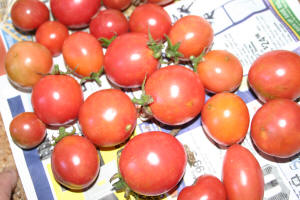 Porter
Is a prolific producer of small, pink grape-shaped fruits.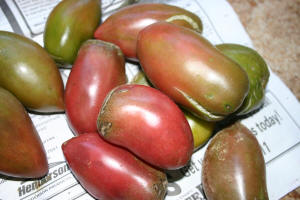 Purple Russian
Is a productive Russian variety that is a prolific producer, very similar to Black Russian.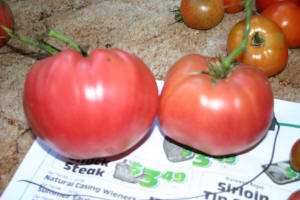 Rose
Is a productive old variety of moderate size.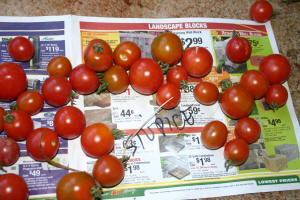 Stupice
Is another Russian variety that is very early and reliable smaller sized.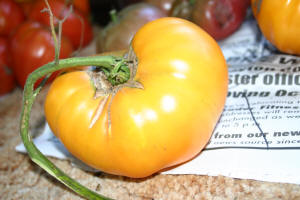 Wagonwheel
Is a productive old variety of moderate size.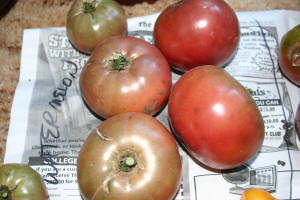 Watermelon Beefsteak
Is a very nice old variety of good size and very productive.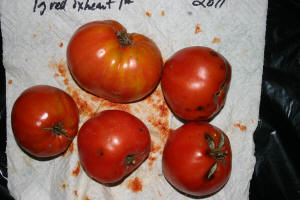 Zorica's Croatian Bullseye
Is a very nice old variety of one pound fruits and very productive.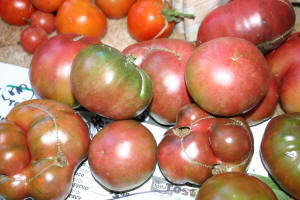 Black Elephant
Is a very nice old variety of one pound fruits and very productive. Great flavor.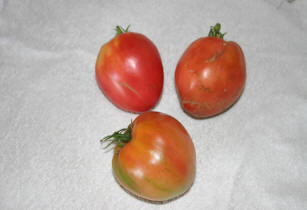 Greenbush Italian
A large, almost seedless oxheart. Great for canning. A favorite to grow every year. We really like this one. Seed came from Martin Longseth in Sun Prairie, WI, of which it is a local heirloom variety.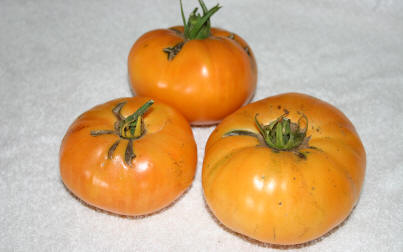 Dixie Golden Giant
Large golden beefsteak tomato. 80 days. Very productive plants. Great old-fashioned flavor.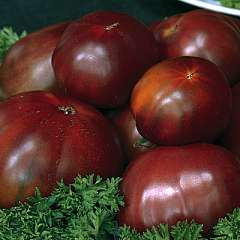 Black Russian
Complex flavor, productive every year. Worth growing. Indeterminate plants, loaded with fruit is what I expect from this variety. Fruit size is about 10 ounces, maybe a bit larger.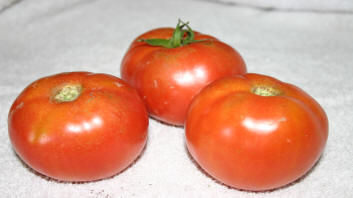 Boyarski
The fruits are about 10-14 ounces, red and flattened globe shaped, and the plants are indeterminate. Great taste.
no photo yet

Improved Golden Wax bush beans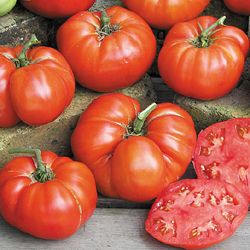 Ponderosa Red

(aka Ponderosa Scarlet)
Grown in the U.S. since 1891. Meaty 10-24 ounce flattened beefsteak fruits with deep red skin. Mild and sweet. Tends to do better in humid areas than many other tomato varieties. Indeterminate, 80-90 days from transplant.
no photo available

K for 7 ananas-type melon
I was given seeds by a US National Guard member stationed in Kosovo as a UN peace-keeper. This melon is the same size as the average canteloupe, with white flesh, and fruits shaped either oval-football-ish, or round. Sweet, delicious, creamy white flesh, well worth growing! Fruits weigh about 3-5 pounds.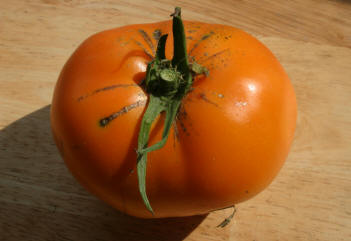 Mennonite Orange
A very productive tomato for me every year, so far. Oodles of fruits. Indeterminate plants need strong cages, well worth planting. Great flavor, too. About 1 lb in size.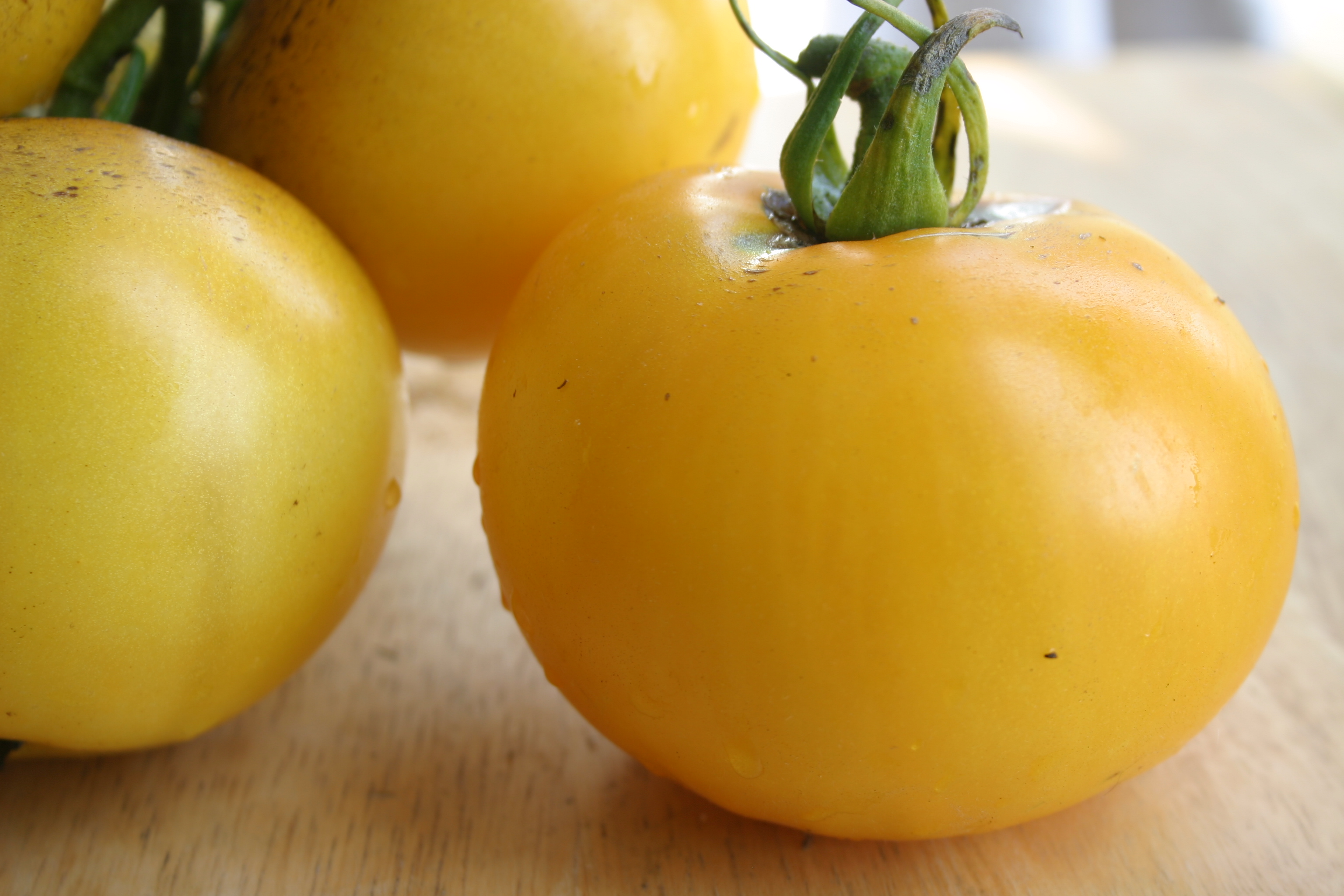 Lillian's Yellow Heirloom
A yellow tomato with great flavor. Easy to grow, plants are vigorous and hardy and productive. Grows very well for me here in Iowa. Large fruits weigh about 1 lb.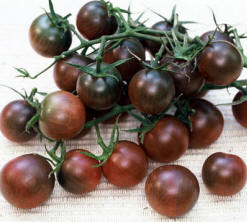 Chocolate Cherry
Gorgeous brown-over-pink colored fruits in clusters. Vigorous plants produce loads of fruit. Indeterminate, regular leaves, produces until frost. Bred by a son of the founders of Seed Savers Exchange.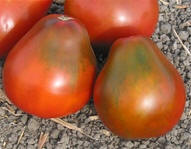 Black Pear
A unique, black Russian tomato of Siberian origin. (Similar to Japanese Black Trifele, but a good bit earlier, and with slightly larger fruits.) Produces big, indeterminate, potato-leaf plants that yield plentiful crops of 6-8 oz., large, dark, mahogany-brown-black tomatoes with dark green shoulders. Fruits are shaped like pears and are loaded with excellent, complex, sweet, well-balanced flavors. These are not only very decorative but a perfect choice for cutting up into salads or used in a tomato sauce. A good, dependable, cooler climate variety. Disease resistant.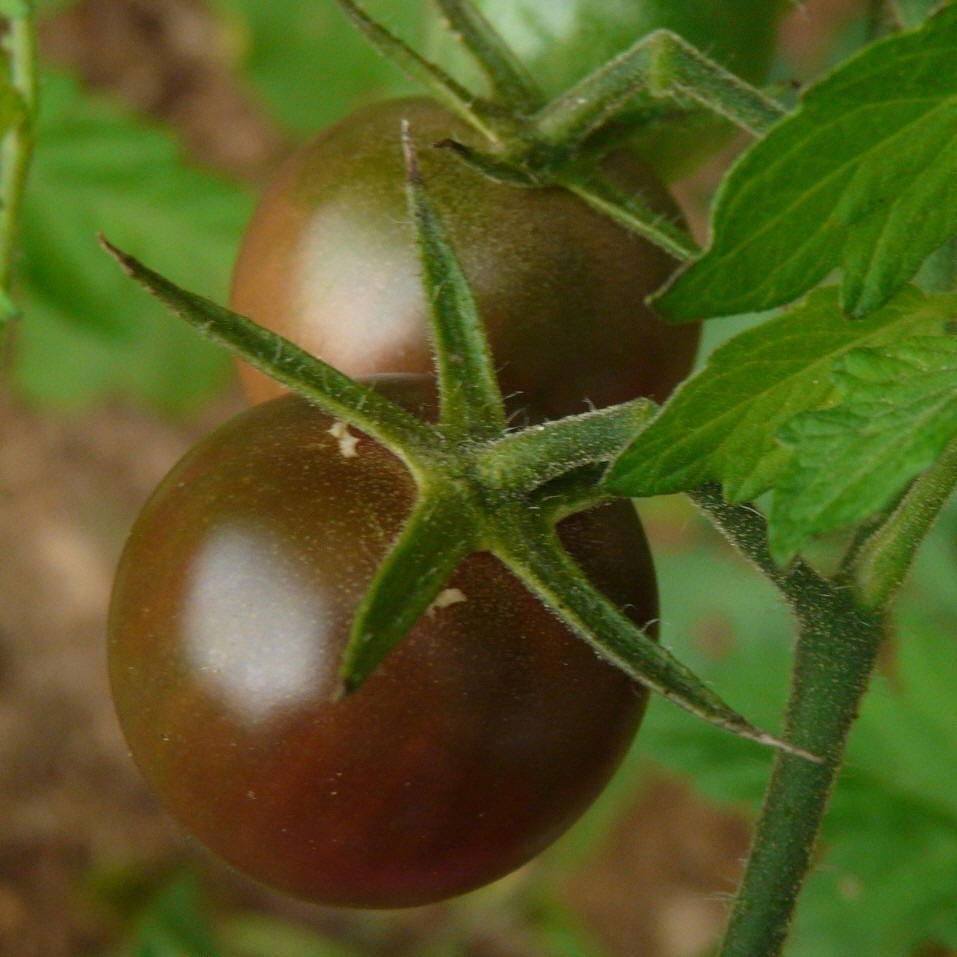 Black Cherry
Small, black round fruit, unique complex flavor; indeterminate plants grow like crazy and produce all Summer-long.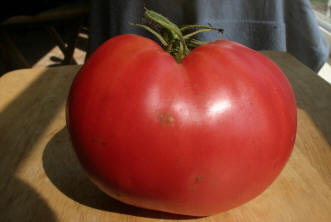 Hungarian Heart
1-2 pound fruits. A prolific variety that kept us loaded with tomatoes all Summer long.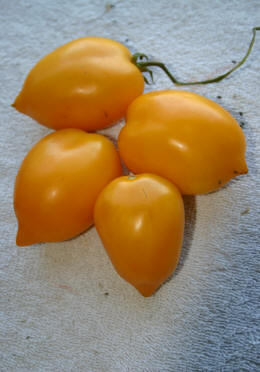 Lemon Yellow
This is a very productive variety that is invulnerable to disease, blossom end rot, sets fruit in heat, and in general is a wonderful variety to grow.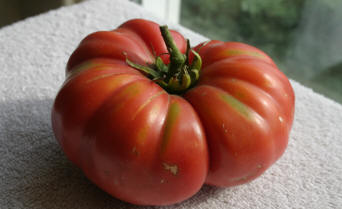 Aussie
Large red fruits, indeterminate plants with regular leaves, deeply fluted fruits that are flattened in shape. 1-2 lbs, 80 days.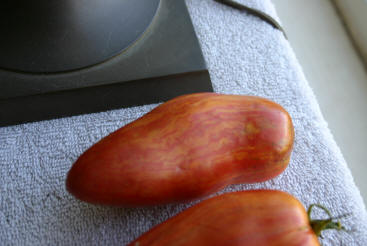 Speckled Roman
A newer heirloom that was recently created. Lovely plants and fruits, a good kind to grow.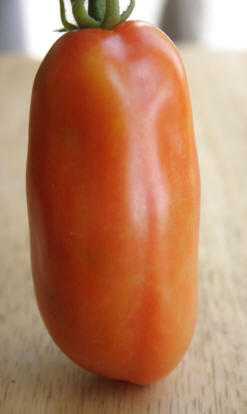 Italian Paste (San Marzano type)
Gorgeous long red fruits with very few seeds, great flavor, excellent paste tomato, not very much juice when canning it, 100% Italian genetics, the seed came from Italy via Australia on the Don Burke garden TV show in Ozland in the mid-1990's, just like the Costa Luto Marmande tomato did. Good rich tomato flavor.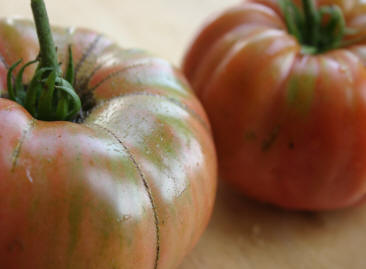 Pruden's Purple
Gorgeous flattened round purple-pink large fruit, great flavor, fruits 1-2 pounds. Good rich tomato flavor, great for slicing for BLT's. Good smooth and creamy mouth feel.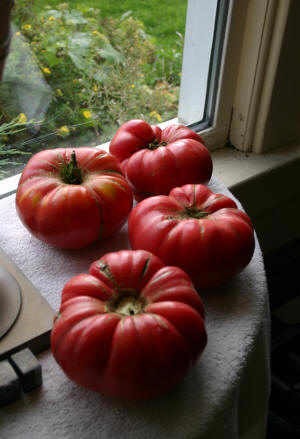 Soldacki
One of my favorites. Gorgeous huge, round, 1-2 lb pink fruits. Good rich tomato flavor, great for slicing onto sandwiches, burgers and BLTs, it covers the bun with one slice. 80 days
No Photo Available

Reine de Hatives - Queen of the Earlies in English,
Small round, red fruit, great flavor, very early, indeterminate plants. Russian heirloom, very prolific bearer. If you just HAVE to have the earliest early tomato, this beats most of them.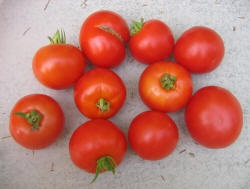 Chudo Rynka a.k.a. Miracle of the Market.
60-70 days, indet., regular leaf, red fruits up to 4 oz. Good flavour, moderate production.
Russian name: Чудо рынка.
The name means "Market Miracle" or "Miracle of the Market" in Russian.
History
Commercial variety from the former Soviet Union, it originated in Siberia; goes back to the 1930s.
Mid-season, det., 2.5-3' tall plant, regular foliage, large 6-12 oz (200-400g) red fruits, great for canning and salsa. Most of the fruit ripen at the same time, and the plant will produce a second fruit set, if the season is long enough. Good shelf life makes it a good tomato for a fresh market.
---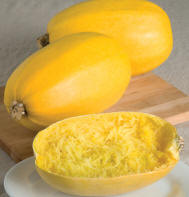 Spaghetti Squash
A winter squash that cooks up like spaghetti strands. My seed came from Livingston's Seeds Co.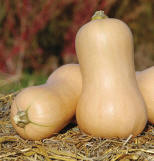 Butternut Squash
These are mini-butternuts, smaller in size than usual.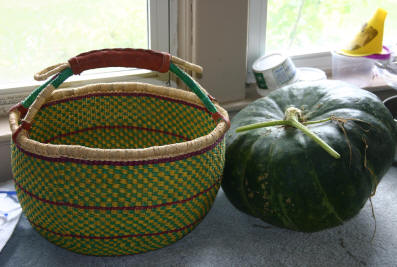 Jarrahdale Squash Mine appears to have crossed with another Hubbard type squash, because it's not blue, and it has a point on it's bottom. But the fruits are 20-30 pounds in size, with deep golden orange flesh, that is dry and bakes up very sweet and nice. Wonderful for pumpkin pies, too.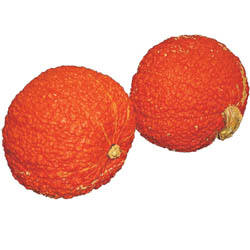 Victor Hubbard Squash This is an heirloom squash that was rescued from the USDA germplasm bank where it had been lanquishing for decades. Fruits weigh in at 25-30 pounds. Deep golden orange flesh that is fiberless and wonderful for pies and etc. Sweet flesh.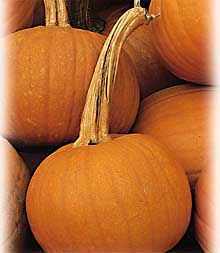 Small Pie Pumpkin This is a true pie pumpkin that is fiberless and very nice. Smaller size is easier to cope with than the big squashes.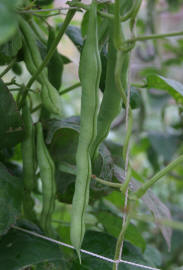 Kentucky Wonder brown-seeded pole bean I was given this bean seed as Mennonite Purple Stripe, but the seed did not match the description for the variety, it was plain medium brown, and the pods were plain green. The only bean like this is Kentucky brown seeded. Not many string beans have plain brown seeds. Extremely prolific plants produce lots of rough, long green beans. Tall plants need a strong trellis.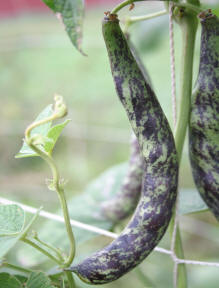 Annelino Stortino Trento pole bean The shrimp bean of Italy. This is the rare striped variety, very hard to come by. Limited quantity of seed available.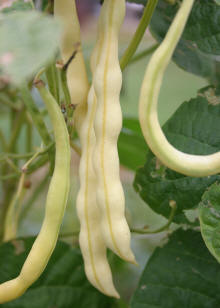 Golden Lake Wax pole bean This bean is very tasty and a great one to grow. I got my seed from the USDA gremplasm bank many years ago. Limited quantiy of seed available for distribution.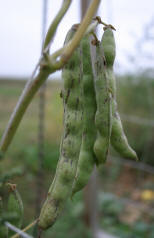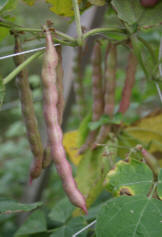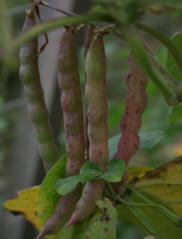 William's Family Alabama Cutshort pole bean This is really a colored mixture of cutshort beans, kept by the William's family in Alabama for a hundred years. Beans are green with purple stripes, all-green, purple, and etc. There are about 6-7 colors of seeds in the mixture, and the flowers are white or pink, too. Tasty beans a bit different from regular string beans, make them with ham hocks or pork belly. They should be somewhat filled out when you pick them to eat. They need to be strung before you cook them.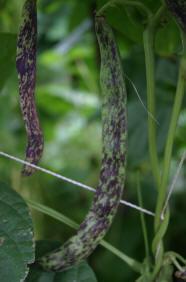 Uncle Steve's Italian
(pinto) pole bean. Great climber, very productive, great as green bean plus shells to a pinto-like bean.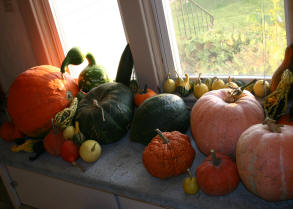 Galeux d'Eysines Gorgeous large pink squash with warts all over it. The pink ones on the right, above, weighing 20-30 pounds.
no photo
Hungarian Hot Wax pepper
no photo
Feher Ozon pepper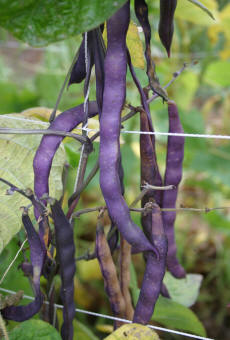 Purple-Podded Pole Bean Heirloom variety discovered by Henry Fields in an Ozark garden in the 1930s, probably northern European origin. Plants climb vigorously to 6' and are extremely productive. High quality, meaty, stringless 1/2" thick by 5-7" long reddish-purple pods that blanch to light green. 68 days.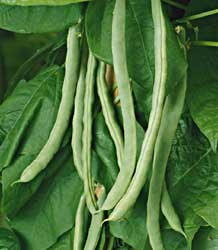 Case Knife Pole Bean
Vigorous climbing plants, productive. Flat green pods 7.5 inches long, white seeds. Blistered leaves. 60 days. Dates to before 1820 in the US, one of the oldest beans in America. Described by Fearing Burr in "Field and Garden Vegetables of America" published in 1865. This is my pet bean that I maintain and I am almost the only person left that has it now.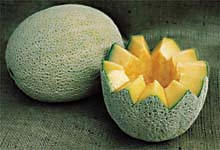 Hale's Best Jumbo Cantaloupe
80 days. Developed by a Japanese market gardener in California around 1920, this muskmelon became widely popular because it combined excellent flavor with earliness. Hale's Best is a beautiful oval melon deep green skin with golden netting. The flesh is an appealing salmon color, aromatic and sweet.


I have seeds for, but no photos of:

Sigaretto di Bergamo pepper from Italy,
Sheepnose Pimento pepper,
Cinderella Pumpkins,
Winter Luxury Pie Pumpkin, a beautiful thing to behold, with netted skin and lovely shape, the very best for pies, above all!
Hickler Stick pole bean,
Brown German lettuce,
Crnkovic Jugoslavian tomato,
Yellow Centiflor tomato,
Pineapple tomato,
Du Bon Jardiniere lettuce,
Yugoslavian red butterhead lettuce,
Serrano Tampiqueno pepper,
Giant Belgium tomato.

If you are feeling experimental, I have some seeds for currant tomato crosses that I am now playing with. A) small round almost 100% currant; B) tiny tit-shaped currant cross; C) tiny grape/oval currant cross. Not stable varieties. Please inquire.